Conference Facilities
Including 16 seat table & 65" TV
The Barn includes a full range of modern facilities that are aimed at making your stay easy and enjoyable. The Board Room Table is modular so will seat anywhere between 4 & 16 comfortably, whilst the less formal seating area can accommodate a further 6 or so. The 65" HDTV is fully 4K compatible and serves as the main visual display for both areas. It is equipped with Sky & Apple TV, DVD/CD, USB and HDMI connections. Any Apple or Android device can be linked to the screen remotely over the free in-house Wi-Fi, which covers most of the garden areas too.
The Barn is served by super-fast Optic Fibre Broadband with a download speed of at least 75Mbps. It in turn provides video-conferencing access via the in-house cameras, together with a number of phone lines that include a conference phone.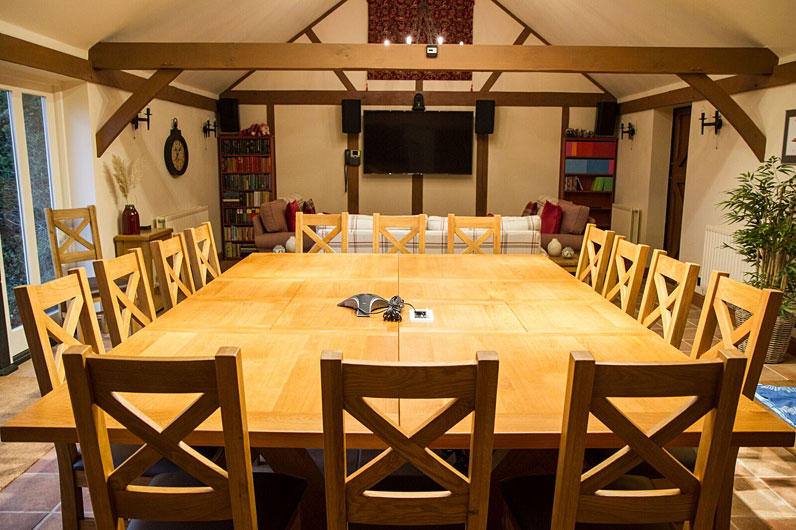 Enjoy the latest tech...
Recording facilities & professional PA system
If you're an audiophile, the 65" 4K HDTV is supported by a 5kW Surround-Sound PA System that can be used for presentations or simply to enhance anything you care to watch. Designed in-house and shipped over from America, the quality is on par with the best modern cinema. Both Sky & Apple TV are available for films, or simply to help you keep track of that important score. It's all available in 4K HD with the crowd in surround-sound, making it feel like you are actually there.
Did you know that The Barn doubles as a professional Recording Studio? Running both Cubase and Nuendo via touch-screens, we do studio recordings using the Quiet Room and live recordings via the main Conference Room minus the furniture. Why not give us a call to discuss or follow us on-line?
And relax...
Private swimming pool & sauna
Heated to 34C (93F) and easily accessible from the rear double-doors, the 12.5m outdoor Swimming Pool and adjacent seating area is the ideal addition to your conference. There are changing rooms and a shower provided, so why not make use of it during lunch breaks?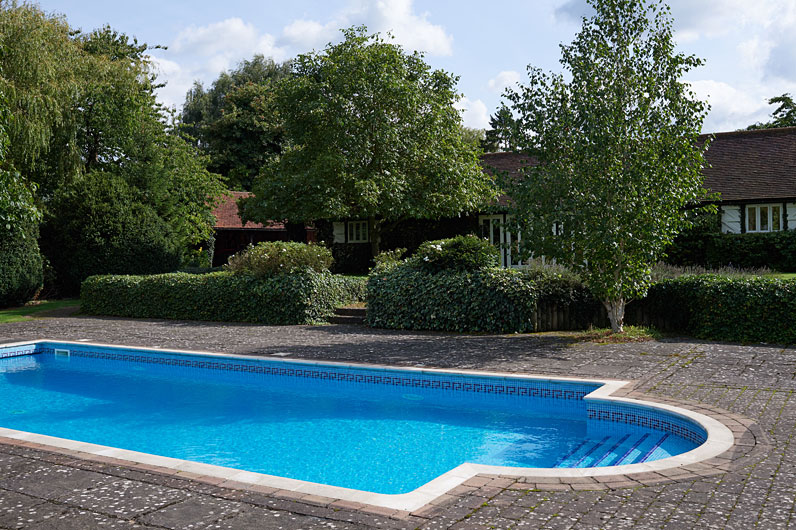 Book now
Reserve your dates today...
If you're interested or would just like to talk to us about what we can provide, then just klick on the Link below to get in touch. If you're already sold, then simply fill-in the boxes to reserve your date.